Iphone App
If you would like more information about any of our services or you have any questions

Contact Us
Our Mobile App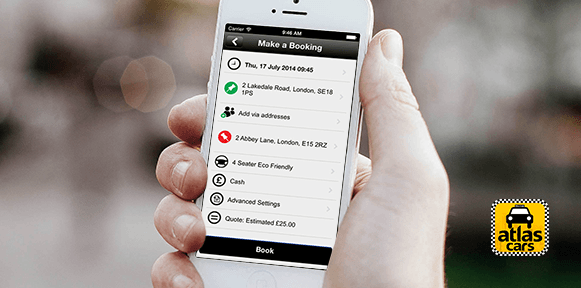 The iPhone was the first smartphone and device to revolutionize the usage of apps in the world. Atlas Cars of London has an iPhone app to accommodate thousands of passengers who utilize the iPhone.
Our commitment to innovation and pioneering trends in the market are evident from our iPhone app, as we adapt to the latest technology.
The Atlas Cars iPhone app seamlessly integrates a convenient 3-touch booking process to get customers to call a cab and easily be on their way.
There are a number of benefits of installing our iPhone app. Multiple tasks that can effectively help you manage the entire process, such as checking prices, cancel a booking, checking status or even track your vehicle, are all within the app.
Moreover, our iPhone app conveniently integrates the payment aspect, so you can pay through debit card, credit card or cash, and never worry about managing your cab payments again.
It's the perfect combination of technology and convenience to make the experience of booking a cab like never before. Download the Atlas Cars iPhone app today and enjoy an experience you won't forget.
Let's Go
Get Instant Booking