Book a Cab on the Go
Simply download our app & compare our prices
Choose to pay via Cash, Card or Business Account
Note: No cancellation charges if you cancel upto 5 hours prior to booking time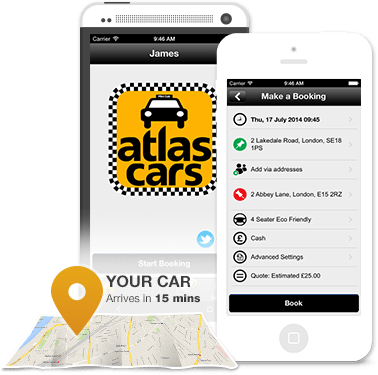 Three touch cab booking.

Get instant quotation
for all your journeys.

Pay via credit/debit card or cash.

Track your vehicle on the map.

Save your favorite address list

Book return trips, and repeat journeys without any hassle.

Automatic text message on vehicle arrival.

You can cancel live bookings.

View current and past trips.

Receive confirmation e-mail when booking.

GPS system finds your current location.

Cars available all over London and around M25.

Review driver performance via facebook & twitter

GPS system finds
your current location.

Choose from hundreds of vehicles

Track your vehicle on the map.
Easy Booking: Few Clicks, Fast & simple booking method.
Get quotations (requires postcodes).
Fixed Price & No Surge! Once booked, prices do not change (unless booking is changed).
Email Confirmation: Receive instant email of your booking.
Pre-Bookings: Book your journeys in advance.
For ASAP bookings, see all available vehicles in your area.
Vehicle Status: Track your vehicle live, in real-time.
SMS: Automatic text message sent once vehicle has arrived outside.
Driver ID: Receive picture, phone number, & vehicle reg number sent via App.
Manage previous bookings and save favourite addresses.
Hassle-free return trip booking.
Edit Booking: Add any additional pick-ups to your current booking.
Popular locations: Choose from Airports, Hospitals, Stations etc.
Vehicle Types: See vehicle images & choose from different types.
Add Flight Number and driver notes within app.